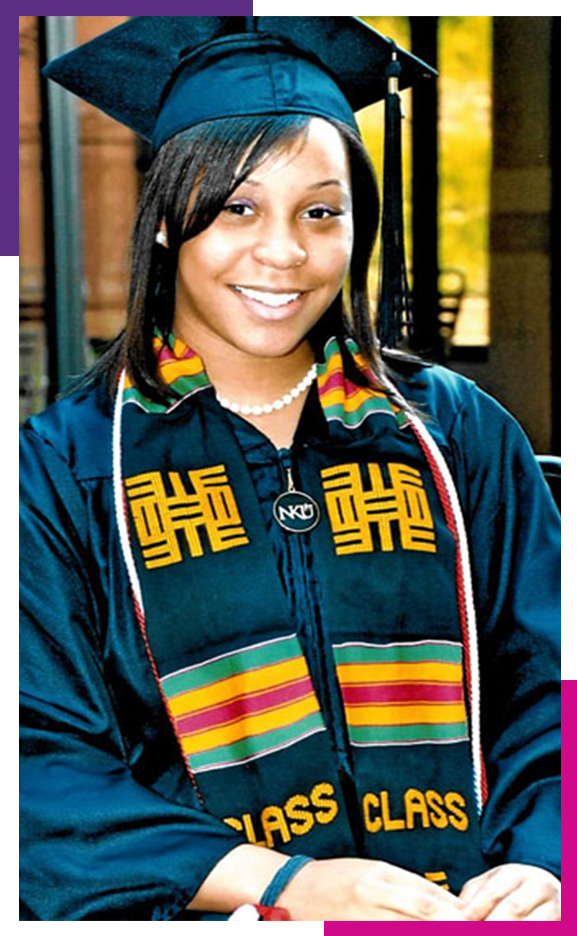 Austina graduated from high school and went on to attend Northern Kentucky University. As one of the first recipients of Sassy Frassy's academic scholarships, she was awarded $1,500 to cover the expense of textbooks.
With the help of Sassy Frassy, Austina became the first in her family to graduate from college. She went on to complete not only one but two Master's degrees at Eastern Kentucky University and works as a school counselor in Lexington, Kentucky. Austina now serves as a school advisor for Sassy Frassy's life skills program, sharing her experience with a new generation of girls!

Sometimes in high school you're not sure who you are…Sassy Frassy really lets you take the time to get to know yourself, get to know what your skills are, what your weaknesses are, so you are able to improve and take those [skills] on into the workforce.
-Austina, Sassy Frassy scholarship recipient and Advisory Board member
Yiting is a student from China who came to the United States as a freshman in high school. Since English was not her first language, learning the course material at Winchester's George Rogers Clark High School did not always come easily. Still, Yiting was motivated to overcome the obstacles and challenges she faced in the classroom.

Sassy Frassy introduced Yiting to a community of strong women who support her journey. She worked on her English language skills and developed the academic ability to excel in college, but lacked the finances.
Sassy Frassy provided a recurring $2,500 scholarship to Yiting. She was able to choose an out-of-state college that offered her preferred program and now studies chemical engineering at The Ohio State University. Yiting recommends Sassy Frassy's program to all high school girls.

Sassy Frassy really relieved my financial stress so I was able to choose an out of state college…I really like it here and I'm really grateful!
-Yiting, Sassy Frassy scholarship recipient
Join us to show your support and hear about our latest success stories. We will share how you can bring our Sassy Frassy program to your church, your school, or community organizations.